Water Damage & Restoration Indianapolis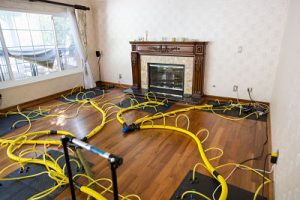 The water damage and restoration experts with 911 Restoration of Indianapolis have the skills and the ability to remedy any water damage issue that they come up against, any time they encounter it. 
The IICRC certified flood remediation professionals go through a rigorous training process that ensures they will thoroughly clear your home of all water, preventing structural damage on the home, destruction of property and mold growth.
We know that water damage can result from any number of water related emergencies, so we are prepared to handle it all.
When your home is affected by any of the unfortunate occurrences, call the water damage experts in Indianapolis for an immediate resolution.
Our offices are opened 24/7/365, because we know that emergencies can occur any time, day or night.
In order to keep the damage to the absolute minimum we make sure to dispatch our crews to your property within 45 minutes of receiving your call.
Call us at (317) 207-7175 and please allow us to offer you a free visual inspection.
If your home or business is already taking on water, then you need the professional assistance of the experts with 911 Restoration, so give them a call today!
Efficiency is Essential With Water Damage

We know better than anyone how devastating floods can be on a home. The situation can be both physically and mentally draining on the homeowner, which is why our water cleanup experts in Indianapolis want to take on all of the responsibility of the restoration process.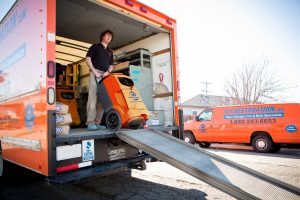 Our water extraction crews handle all kinds of water damage restoration, including:
Flooded basements and crawl spaces

Pipe bursts

Toilet overflows

Carpet cleaning

Storm and rainwater leaks

Plumbing issues

Appliance malfunctions

Roof restoration
From the initial free home estimate to the renovation to the insurance process, our staff will do it all.
The leak repair techs in Indianapolis can handle water damage jobs of all magnitudes. If the job is as simple as a plumbing leak, or as big as a storm flood, we know our specialists can do it all.
We are licensed, bonded and insured for your protection. When you hire us, you know that you are in trustworthy hands that will get the job done right the first time around. Call us at (317) 207-7175 and learn how we can help.
If your living room or office space is filling up with water from a flood, ceiling leak, or pipe burst, then don't wait another minute to contact the water damage and restoration Fisher experts with 911 Restoration of Indianapolis today!
We Won't Let A Flood Wipe Out Your Home
Due to our years of experience in the industry, the water damage restoration experts understand that clearing moisture from a home needs to be done as soon as possible.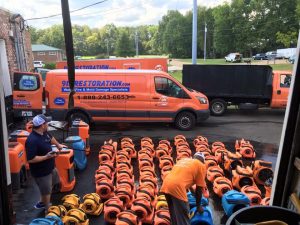 We will take all measures necessary to salvage the structure of the home and and all the items inside. 911 Restoration of Indianapolis makes it a priority to keep your home safe and everything inside unharmed, despite the level of water damage.
Since many of us keep irreplaceable belongings in our homes, the flood damage pros in Indianapolis make it a priority to salvage your prized possessions. 
Our members use the most advanced drying technology in order to get the home and the items inside dry and clean, leaving the home completely moisture-free. We want homeowners to feel like they can rely on us for any type of water damage restoration.
Along with clearing your home of water damage, the staff in Indianapolis helps our customers communicate with their insurance companies. We want you to get the best coverage possible, making sure that your out-of-pocket expenses stay at an absolute minimum. Call Restoration companies Indianapolis at (317) 207-7175 and see how we can help you.
If you find yourself dealing with a water issue, call 911 Restoration of Indianapolis to get you out of the flood. Our water damage and restoration team in Indianapolis wants to give you and your home the fresh start you deserve, so give us a call today!

Serving the communities of Acton, Albany, Alexandria, Anderson, Avon, Bargersville, Beech Grove, Brownsburg, Camby, Carmel, Cicero, Coatesville, Danville, Fishers, Fortville, Franklin, Gaston, Greenfield, Greenwood, Indianapolis, Lapel, Lebanon, Lizton, Martinsville, Monrovia, Morgantown, Muncie, New Palestine, Nineveh, Noblesville, Plainfield, Shelbyville, Speedway, Trafalgar, Westfield, Yorktown, Zionsville and surrounding areas.