Water Damage Franklin
An overflowing toilet bowl can cause contaminated water to spread into your living space that can potentially have harmful affects on everything living in the home, which is why you should call the water damage Franklin specialists at 911 Restoration Indianapolis the moment the sewage backup occurs.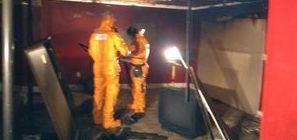 There is no reason to wait for help, because we keep our phone line available 24/7/365 in order to accommodate your needs.
We act fast in these disasters involving water, so you can depend on us to get to your property within 45 minutes, or less, depending on your location.
As soon as we get on the scene we will begin same day services, starting with a free home inspection.
This way the process gets started at no risk to the homeowners and everyone begins on the same page.
Call our licensed, bonded and insured crew as soon as water invades your property and we will do whatever it takes to get your household back to feeling like a home again.
Do Not Waste Any Time When Dealing With Sewage Waste
Our water damage Franklin crew has many years of experience cleaning up sewage backups and we know how much damage it can cause in a home.
Whether you are dealing with a spill from a septic tank or a clogged sewer line, you can count on us to get your home completely sanitized and decontaminated.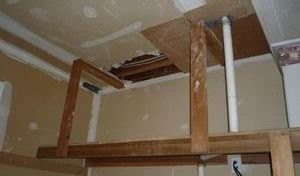 Our Franklin flood damage restoration professionals will then begin the following:
Section off the contaminated are from the untouched parts of the home by implementing vapor barriers and plastic sheeting on the floor

Remove all solid waste and dispose of it in the proper receptacle

We will then suck up all the liquid using professional grade sump pumps and wet vacs

Remove all items that were touched by the overflowing water from the home and place outside

Sanitize the area

Dry the home with air movers, air scrubbers and dehumidifiers
Before we begin any sewage remediation ordeal, we make sure to wear protective clothing and masks to keep from getting any bacteria on us. This is important to mention, because we never want any homeowners to attempt a clean up themselves in normal clothing.
The smell is the hardest part to get rid of, but out Franklin water cleanup team have the equipment to get your home smelling fresh again. You can help this process along by keeping the windows open and keeping fans blowing.
Call us today and we will get your home sanitized and clean again before you know it.
We Clear Out All Water Overflows
No matter what type of water disaster occurs in your home, you can count on our water damage Franklin pros to remediate all causes of leaks and floods, such as:
Flooding

Leaky shower pan

Ice machine Malfunction

Burst Pipes

Washing machine overflow

Ruptured hoses
We are IICRC certified to help you in any situation, including dealing with your insurance company. It can be difficult to understand your policy, so we will go over it with you, even filing your claim for you, if need be.
Call us the moment water floods your property and our water damage Franklin floodwater team with 911 Restoration Indianapolis will get you the affordable prices you deserve on leak damage services today!