Sanitization Services in Indianapolis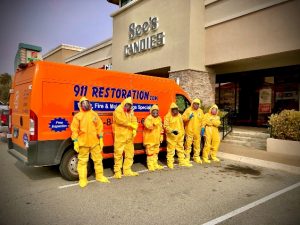 You can take proactive steps to slow down the spread of the coronavirus in Indianapolis. Everyone in our community needs to work together to handle this pandemic. You can do your part by maintaining social distance and practicing good hand-washing techniques. You can also contact 911 Restoration of Indianapolis to focus on keeping your property clean and sanitized.
Our sanitization experts provide disinfection solutions to business and residential property owners in Indianapolis. We base all of our sanitization services on the recommendations issued by the EPA and the CDC. Techs have the experience and training to deep clean your office and sanitize retail spaces throughout our community.
Getting help with sanitization services can help increase your peace of mind during the coronavirus pandemic. It can also make your employees and customers feel better as they move throughout your business. Take steps to lower anxiety levels during this world-wide health crisis by reaching out to the experts at 911 Restoration.
Crews can reach your property quickly to discuss disinfection solutions that will work for you. You can contact us around the clock, so start getting proactive about handling the coronavirus today. We're standing by to begin cleanup and sanitization.
Your Options for Disinfection Solutions in Indianapolis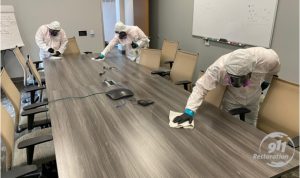 You do not have to try to take on the coronavirus on your own. You can get professional help on your side right now from the professionals at 911 Restoration of Indianapolis. Our sanitization crews are highly trained and experienced with commercial cleanup.
No commercial space is too big or too small for disinfection solutions in Indianapolis. We're prepared to handle office deep cleaning and the sanitization of any retail space, as well as residential properties in Indianapolis. Crews can:
Assess your needs for disinfection solutions

Clean contaminated areas first

Perform sanitization procedures

Note when sanitization occurred for the peace of mind of your customers and employees
We understand that not all business owners in Indianapolis have the same needs right now. Some businesses are temporarily closed. In this case, you may want sanitization services to prepare to reopen your business. Other businesses remain operational as they offer essential services to our community. In this case, you may want to set up a recurring schedule for sanitization and disinfection.
Discuss all of your options with sanitization specialists now by contacting 911 Restoration of Indianapolis. We're ready to put you first, so contact us today.