Steps to Take at Home after the Tropical Season Has Passed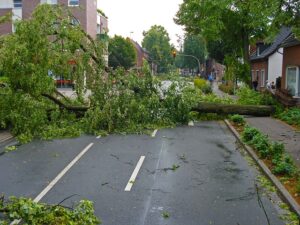 Tropical storms can be devastating,  making  it essential to prepare your home to minimize damage. However, while preparation is vital, it's equally important to know how to react after the tropical storm season has passed. This is crucial to keeping you and your family safe.
Despite being in the Midwest, Indianapolis is no stranger to tropical storms. While it doesn't experience the full brunt of tropical storms, Indianapolis deals with heavy rainfall and damaging winds. Therefore, it's critical for residents to know how to protect themselves and their families before, during, and after the storm.
Just because the tropical season has passed doesn't mean the danger is over. Follow these steps to ensure your property and your family's safety.
Arrange for Board-Up Services
Storm damage can take up thousands of dollars to repair. Storms often destroy doors and windows and leave your home vulnerable to further damage. One of the best things you can do to protect your property is arranging board-up services. Not only do these prevent further damage, but they can also secure your property and deter vandalism.
Additionally, many insurance companies refuse to cover further damage unless you oprove that you took measures to secure your property. Thus, this can also be helpful when it is time to file your insurance claims.
Secure Your Property
While utilizing board-up services is one part of securing your property, there are other factors that go into this. In addition to removing valuable belongings at risk of damage, it's important to start removing porous items like carpets and furniture before they have a chance to sit and grow mold. Since this is an especially difficult process, many reach out to home restoration services for help.
Document All Damage
Once the storm season has passed and it's time to deal with repairs, it's essential to document all the damage the weather has caused. This includes making a list of the damaged items, including their brand name, age, description, name of the manufacturer, date and place of purchase, and more.
It's essential you're as thorough as possible when documenting the damage that the tropical storm season has caused. You must take plenty of pictures and videos of the damage caused since this will be essential when you file a claim with your insurance provider. Ensure that these are high-quality, detailed pictures and include manufacturer identifiers and other relevant details.
In addition to documenting the damage to the interior of your home, it's also crucial you inspect the rest of your property. Storms can cause both water and wind damage, and you may have roof damage, damage to the HVAC unit, etc. All of this also needs to be documented extensively.
Documentation can be a challenging process, and some consider it a hassle. In order to get help with this, you can opt to hire disaster restoration services that help you with insurance claims as well. 911 Restoration of Indianapolis is such a service and can help you with all aspects of insurance, including documentation and dealing with insurance companies on your behalf.
Contact Your Insurance Provider
One of the most important things to do after storm season is contacting your insurance provider as soon as possible. This way, you can get immediate answers about coverage and will have to spend less time waiting for your claim to go through. When it comes to larger disasters that affect many people, insurance providers have to go through a large number of cases and may take longer to get back to you regarding your policy.
Turn off All the Gas Pipes
Gas can be extremely dangerous after a storm, especially if there's a burst or leaking gas pipe. It's essential to turn off the main gas valve since not doing so can put you and your family in harm's way. In fact, it can also lead to devastating property damage if there's a fire.
Find Reputable Disaster Restoration Services
The storm season may be over, but it will take time to get your property back to its former glory. To ensure you're settled back in your home as soon as possible, hire a reputable disaster restoration company. Ensure that they are experienced in working with the kind of damage you're dealing with and are bonded and insured.
911 Restoration of Indianapolis
911 Restoration of Indianapolis offers comprehensive home restoration services, including disaster restoration services.We know that Indianapolis has a history of tornadoes and that the best course of action after storm damage is to tackle restoration immediately. Home restoration requires urgency, and we make sure to be there for you during these challenging times.
We're available for emergency services 24/7 and will reach your property within 45 minutes of you contacting us. Whether it's water damage restoration or specialized disaster restoration, our IICRC-certified technicians can handle it easily. Simply call us at (317) 207-7175 or contact us here.