How to Prevent Mold in My Pool During The Winter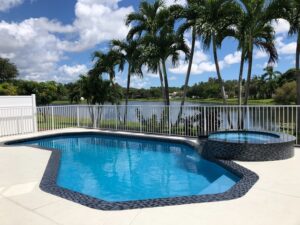 Everyone knows how quickly mold can take over a pool in hot summer months. However, just because you're entering winter, don't think that mold or algae are going to rest from covering your pool.
Even though mold flourishes in warm water, it can still grow in the winter when the water temperature is low. This will help it grows slowly but grow, nonetheless.
Not only is mold growth unhygienic, but it is also very unpleasant to see and smell.
So, if you want to keep your pool clean and mold-free throughout the winter, here are a few tips and tricks did you can follow:
Cover Your Pool
It is always best to keep your pool covered no matter what the weather is like. If you're not using your pool, invest in a good quality pool cover for whenever the pool is sitting idle. This is especially important if you live in an area where insects are quite common.
This helps you create a barrier between your pool and bacteria, dirt, insects, and even leaves from entering the pool. If these materials and trash enter the pool, it gives the mold enough nourishment to thrive.
Don't skip out on a swimming pool cover if you want to save your swimming pool from looking like a swamp!
Keep The Pool Cover Clean
Even when your pool is covered, the cover itself can collect debris, leaves, and other unwanted materials. This then turns into sludge if it's mixed with access water, making the rain filter a breeding ground for mold and algae.
When you choose to remove the pool cover off, there is a high chance this bacterium-filled mixture might slide into the clean pool. This would completely ruin the whole idea of using a pool cover in the first place.
Hence, it is important for you to regularly clean your pool cover so that no excess dirt, bacterial, or unwanted substances collect on top of it.
Balance Your Pool Chemicals
The pH balance of your pool should be ranging between 7.2 and 7.6. Checking the chemical balance of your swimming pool at least after every two weeks is a good strategy because it helps you avoid mold and bacteria build-up.
If your pool is short of chlorine only for a little while in the winters, it can become a breeding ground for mold very quickly. Hence, it is very important for you to treat your pool even if you are not going to use it for a while.
You can also look mold preventing pool cleaning products in your local supermarket to ensure a clean and safe-to-use pool when the summer months come around again.
Get Professional Help
There are several companies that offer mold removal services, such as 911 Restoration of Indianapolis. Their skilled team of experts can inspect your home and pool area for possible mold infestation.
Fighting mold and mildew is very important because it pollutes your environment, makes breathing difficult, and messes up your pool. This safety hazard should be dealt with as soon as possible.
With their high-performing, industrial-grade agents and years of experience, 911 Restoration of Indianapolis is a great solution for all mold-related needs. You shouldn't have any hesitation contacting them for your mold removal services because having this handled professionally is a safe way to go.
Filter Your Pool Regularly
Mold love stagnant water pools as much as they love under-chlorinated ones. Hence, you should regularly run your pool filter to make sure everything stays clean and cycled.
Stagnant water is a definite no-no, so set your pool filter timer at night so you can save a significant amount of money on peak electricity rates.
Don't Let Your Pool Go Unchecked
When the winter months come around, and you decide to close your pool off, it doesn't mean that you should completely forget about it.
Pools need maintenance all year round because standing water never stays clean on is own. So, unless you want it to become a breeding ground for bacteria and algae, it is best that you keep a check on your pool on a regular basis.
This means that you should lift your pool cover, check the water quality, check the chemical balance, as well as dose it with a chlorine shot to keep everything running smoothly. Also, don't forget to dust off or filter out the pool cover for that added protection.
The Bottom Line
Swimming pools are a great way to relax and have fun with your family and friends at home. However, pool maintenance is also an integral part of it all.
Mold infestation can be very dangerous for your health and, not to mention, absolutely disgusting!
You can thoroughly focus on mold prevention tips and tricks at home or place your trust in a company that offers mold removal services for pools and homes. Either way, controlling mold and bacteria growth in a swimming pool is imperative!