How to Reduce the Risk of Carpet Mold – Mold Restoration + Sanitization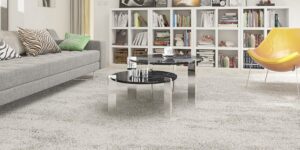 After severe flooding due to a water pipe burst or heavy rainfall, homes are at a high risk of mold growth. This is especially if you don't hire a professional service provider right away for home restoration after water damage. Water removal and deep cleaning after flooding are crucial to minimizing the chances of mold growth. It is vital to understand that even if a small amount of water is left behind can provide ideal conditions for mold to grow and infest your home before you know it. The best breeding ground for mold is a wet carpet.
This is because for the spores to develop and grow into the mold, they need moisture. Carpets, on the other hand, are great at trapping moisture. Once a carpet becomes wet, the moisture seeps deep in the dense fibers that make the carpet weave. Moreover, carpets also have a backing underneath. When the backing gets wet, the moisture gets under it, providing ideal conditions for mold to thrive and spread (a warm, dark, moist space). Therefore, it is essential to work with home restoration experts like us.
At 911 Restoration of Indianapolis, we are an experienced and reliable home restoration company providing full-scale services, including mold remediation, water damage restoration, and sanitization. Our team arrives well-equipped with all the necessary and state-of-the-art equipment within 45 minutes after your call. This helps us ensure that the job is done right the first time and as quickly as possible without any delay. Rest assured, we are a team of insured, licensed, and trained experts that you can count on for mold removal and eliminating the risk of carpet mold.
Quick action is the key to preventing the risk of carpet mold growth anywhere there is moisture. It is also important to act fast because the presence of mold in your home can lead to many health problems, putting your family's health at risk. Hence eliminate and stop the growth of mold in your house to keep yourself and loved ones protected from health conditions like throat irritation, eye irritation, coughing, nasal stuffiness, and skin irritation.
Carpet Mold Removal—Essential Steps to Take
Although many homeowners may want to handle the job by themselves, working with a professional to eliminate the risk is advisable. This is because, after flood damage, you will need access to commercial-grade dehumidifiers, air filters, vacuums, pumps, heavy-duty fans, and air scrubbers to remove excess moisture, structural and carpet drying.
At 911 Restoration of Indianapolis, we not only have access to all this equipment, but we are also trained on how to use them for best results. When it comes to eliminating the risk of carpet mold, we provide a customized action plan which includes the following steps:
Mold Testing
We believe that there is no one-size-fits-all approach to mold removal. This is because there are more than 200,000 types of mold. Therefore, it is important to conduct a thorough and in-depth mold inspection of your property.
Once the inspection is complete, our experts take the mold sample to a third-party laboratory for testing. It is vital to determine the infestation type on your carpet and the extent of the mold growth. Moreover, based on the findings, our team determines the plan of action with the right steps, tools and technology, and safety gear needed to clear your property from mold infestation in the fastest possible time. Our goal is to handle mold decontamination safely.
Drying the Carpet
To carry out this step, we isolate and ventilate the area using high-powered and heavy-duty fans combined with dehumidifiers. Proper airflow is created to remove bad odor and moisture from the entire room. At this stage, our objective is to dry out the carpet and other wet areas in the surrounding to remove moisture from the area completely. Not only does it remove moisture, but it also protects your space and carpet, securing them from future mold growth.
Steam Cleaning and Sanitization
We steam, sanitize, and clean all carpets and walls in the surrounding. This is much needed to ensure all affected areas are cleaned, and there is no moisture present in the room. We also use a HEPA vacuum on the carpet to remove as many spores as possible.
On the other hand, we use our high powered truck mounted systems to steam clean your carpets. It helps us remove moisture, dirt, and soiled materials from the carpet thoroughly. We deep clean, going as deep as the carpet fiber base. This helps rinse dirt and leftover residue. The process is safe and fast and doesn't damage carpets. Unlike our contemporaries, we only recommend carpet replacement if there is no way to save it and important for the safety of your family.
Our mold removal and home restoration experts are trained and experienced in preventing mold spores from spreading to other areas. Call us now. We provide the best services with complete satisfaction.