Dealing With Commercial Fire Loss in Indianapolis: What to Expect?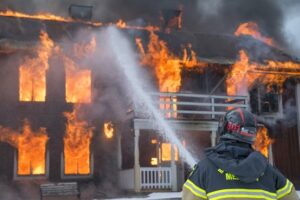 Dealing with commercial fire loss can be highly challenging for business owners. Your office and commercial properties can sustain property damage, 15%  of the time it's due to electrical fires. In addition, 6% of structural issues are caused by office kitchen fires.
Business owners must hire experts for smoke and fire restoration services after the fire fighting activities finish. That way, home restoration experts can start the remediation process within a reasonable time range.
Primary services focus on salvaging burned and damaged furniture, possessions,  restoring furniture, and replacing items destroyed in the fire.
Continue reading to learn all about commercial fire damage restoration:
What Happens During Commercial Fire Damage Restoration?
Despite the many safety measures you take and office fire drills you conduct, you can't save your property from structural damage during a fire accident.  Dealing with a commercial fire isn't easy, but finding a reliable fire and smoke damage restoration company can prove beneficial.
911 Restoration of Indianapolis offers 24/7 fire mitigation services for commercial properties. We can take your call any time of the day and arrive at the fire site within 45 minutes for immediate emergency response and support.
Commercial fire damage restoration services cover three phases. They are as follows:
Phase I: Risk and Damage Assessment
Our primary goal revolves around restoring damaged properties and assessing potential risks.  After inspecting the burned site, our IICRC-accredited experts create a practical plan to resolve structural issues, salvage burnt items, and restore your office building.
We strive to create an efficient game plan that aligns with the unique challenges your business faces.  Personalized strategies result in an effective reversal of all visible signs of destruction.  They also minimize safety risks for businesses returning to work after the accident.
Phase II: Debris Removal
Our trained technicians can't begin reconstruction when the fire site is covered with debris (i.e., damaged floorboards, collapsed roofs, burned furniture). In some cases, we remove hazardous waste that might create health issues or cause further deterioration of the building.
It can be a time-consuming task depending on the size of the target site and the severity of the fire damage.
Phase II: Mitigation
Dealing with commercial fires and the aftermath means eliminating all traces of fire contaminants (i.e., soot, ashes, smoke odor) left behind. Our work also involves removing charred and unsalvageable items from the site, and water residue from fire fighting activities.
Due to this, fire and smoke damage restoration services can be subdivided into three steps.
They are as follows:
Soot Removal
Most commercial fire sites get coated in a thick layer of icky, black soot. The powdered carbon can be found on surfaces affected by the blazing flames. It often reacts with air vapors. In addition, it's difficult to remove when mixed with environmental elements, especially if you only have ordinary cleaning supplies.
Soot often consists of caustic chemicals and acidic components. They can accelerate fire damage and deterioration by continuing to react with porous and textured surfaces.  Fallen soot can damage furniture, plastic items, structural elements, and upholstery even after extinguishing the fire.
Common signs of soot damage include discoloration and staining. The prolonged presence of soot can distort the appearance of the target surface. Due to that, you might have to replace the damaged object or pay a hefty fee for repairs.
Our specialists use industrial-grade soot removal procedures to clean your commercial property. We use powerful vacuums, scrubbers, and latex-based techniques to residual soot powder left in the wake of a commercial fire.
Smoke Odors
When you're dealing with commercial fires, you may notice the air quality of your burned buildings often drops. There's a smoky haze that lingers on after the fire and releases a repulsive odor that infiltrates all nooks and crannies of your office building. It includes furnishings (i.e., carpet, rugs, curtains) and structural fixtures (floorboards, wooden panels, wallpaper, HVAC system, etc.
Our deodorization treatment features heavy-duty humidifiers, air scrubbers, and air movers to clear the air from smoke particles and burned remnants.
Water Damage Restoration and Mold Remediation
Water damage and mold growth can occur from continuous exposure to water during fire extinguishing activities. High levels of moisture accumulation in your office building can turn it into a breeding ground for bacteria and mold spores.
Mold growth occurs rapidly (often within 48 hours of the fire), thriving in the building's dark, damp, and confined areas. Our technicians deal with excess water and dampness before implementing mold mitigation methods. We use specialized equipment like vacuums, dryers, and dehumidifiers to eradicate water particles from the surfaces and air.
Next, the team scrubs and cleans water-damaged surfaces with anti-bacterial solutions and cleaning agents. Sanitization treatment facilitates mold removal and reduces the risk of further growth.
Why Does Commercial Fire Damage Restoration Matter?
Dealing with commercial fires can impact your public image and cost thousands of dollars. It's why you must hire industry experts that work beyond reconstruction and recovery of damaged property services.
For instance, our company offers deodorization and sanitization treatment to improve safety standards and comply with building health codes. These services optimize air quality inside your commercial buildings. It ensures that employees and clients that visit the target site don't get harmed by the fire accident through residual smoke and possible mold growth.
In a way, it protects your business from a potential lawsuit.
That's because the unhygienic condition can expose visitors to hidden biohazards. For instance, smoke and mold can cause breathing issues, wheezing, irritable eyes, headaches, and allergies. The physical symptoms might increase due to overexposure to the contaminated air.
Besides this, our team helps business owners and properties file insurance claims to cover restoration and maintenance costs.  We can offer invoices, testimonials, photographic evidence to support your application. These efforts increase the likelihood of receiving reasonable coverage from your carrier.
In a Nutshell
Dealing with commercial fire loss can not be possible without the right fire and smoke damage restoration company beside you. As your trusted service provider, we empathize with your loss and work hard to repair and reconstruct your building. Our three-tier commercial fire damage restoration procedures maximize efficiency and limit potential dangers related to smoke odors, soot damage, water damage, mold growth, etc.
As a result, your office building and commercial sites return to pre-existing conditions once we complete the project.
Do you want to know more? Contact 911 Restoration of Indianapolis for further details.