911 Restoration Indianapolis Is On The Racetrack With Bobby Hamilton Jr. In The ARCA Racing Series
Nothing else gets the adrenaline flowing like hearing revving engines on a race track and the ARCA Racing Series can provide you that hot-blooded feeling you've been looking for!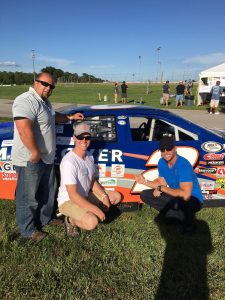 911 Restoration Indianapolis together with Makeover Mortgage are proudly sponsoring driver Bobby Hamilton Jr. in the ARCA Racing Series Pacific Division. Bobby has been racing since 1998, traveling around the country with NASCAR.
Being from the racing capital of the world, 911 Restoration Indianapolis' owner Rick Zigler grew up around the speedway and he's always dreamed of being behind the wheel. Being such a big fan of stockcar racing, Rick is proud to support Bobby in getting to the checkered flag for every event. Call us at (317) 207-7175 and learn how we can help.
With Makeover Mortgage, we make sure that home's that have been in foreclosure are made ready for new owners through our quality restorations.
911 Restoration is the company that you can always turn to fix roof leaks, pipe bursts, sewage spills, mold growth, or flooding. Our company believes in providing homeowners with a fresh start after major water disasters affect your home.
Next time you're on the track, make sure you catch Bobby and the rest of his team. And for all your water damage restoration needs, check out 911 Restoration today!
Call us at (317) 207-7175 and see how we can help you.