Mold Removal in Plainfield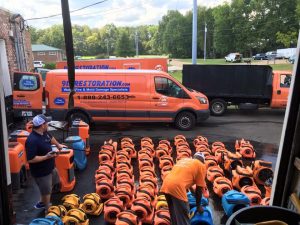 As a property owner in Plainfield, it's doubtful that you're surprised by the need to take care of any property damage that occurs. As a result, you're likely to be extra vigilant in your inspections. However, despite this focused approach, you can still be surprised. One example of such a surprise is a mold infestation. Mold is slow to grow and is difficult to detect before weeks or months have passed. That's why our IICRC certified technicians are standing by 24/7/365 to provide you with mold remediation. Whether you live in Plainfield, Avon, Greenfield, or any other city in the Indianapolis area, you can depend on us to show up within 45 minutes ready to get started on your mold removal.
You can increase your effectiveness as a property owner by remaining aware of the signs of mold growth. While mold does grow slowly, it does provide clues to residents. Some of the most common signs of mold include:
Rotting wood

Crumbling drywall

Breathing problems

Headaches

Persistent cough

Stale odor
It's important to remember that mold removal should be handled by trained professionals. Traditional methods of cleaning are detrimental instead of helpful. This is thanks to mold spores becoming agitated easily. When this occurs, the spores become airborne and create new mold colonies elsewhere. That's why the only effective solution is a professional mold remediation handled by IICRC certified technicians.
Call 911 Restoration as soon as you're aware of or suspect mold growth on your property. We'll show up within 45 minutes for our Plainfield residents ready to get started your mold remediation needs. Don't wait to get a Fresh Start today.
Mold Remediation Professionals
Mold remediation professionals are necessary for successful mold removal. However, you can't depend on every technician to offer the same services or expertise. One may lack the equipment to handle your water damage restoration, while others may not understand what's needed to prevent the mold from returning. That's why a mold removal technician that offers a comprehensive approach from start to finish is your best option when making a choice. With ongoing training and years of experience, our IICRC certified technicians deliver a perfected mold remediation process every time for our Plainfield customers.
We don't take action until we've completed our visual mold inspection. This is because the mold removal process shouldn't be rushed. Instead, we take our time to ensure we understand how far the mold has spread, toxicity levels, containment measures needed, and the repairs needed. Once the mold inspection is finished, we are ready to get started on your mold removal.
The first task is mold containment. We can't let the mold spread beyond the origin point. That's why we use nothing less than the latest containment measures, which include vapor barriers. After containment is complete, we are ready to begin working on our mold decontamination step. With this step, the use of industrial-strength cleaners and detergents are implemented to kill the mold spores. We wrap up the process with the mold removal itself along with any repairs needed to get back to good as new.
Once you see or suspect mold on your property, call 911 Restoration. We promise to arrive within 45 minutes to begin your mold cleanup. Call now to get a Fresh Start that has you breathing easier. 
Black Mold Removal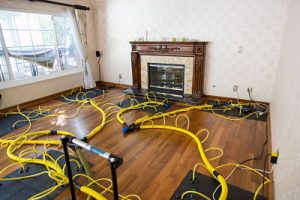 The presence of black mold on the property is a serious matter for property owners. While it rarely occurs, the truth is that your building can easily generate the conditions necessary to create black mold. Remain vigilant against the following concerns and you won't have to worry about acing black mold.
Unusually dark or damp rooms

Delayed mold remediation

Ineffective mold removal

Contaminated water sources
Black mold not only harms the property but also deals damage to the health of any residents on the premises. Some of the most serious conditions include organ shutdown and possible death when exposed for too long. We address this problem by using a two-phase mold decontamination process. We perform the first step before the mold removal and the second step after mold removal. 
Call 911 Restoration if you suspect toxic mold. Don't delay getting a Fresh Start today. 
Servicing the cities of Acton, Albany, Alexandria, Anderson, Arcadia, Atlanta, Avon, Beech Grove, Brownsburg, Camby, Carmel, Cicero, Clayton, Daleville, Danville, Edinburgh, Elwood, Fairland, Fishers, Fortville, Franklin, Frankton, Gaston, Greenfield, Greenwood, Indianapolis, Lapel, Lebanon, Lizton, Martinsville, McCordsville, Mooresville, Morgantown, Morristown, Muncie, New Palestine, Noblesville, Orestes, Pendleton, Pittsboro, Plainfield, Selma, Shelbyville, Sheridan, Shirley, Speedway, Thorntown, Trafalgar, Waldron, Westfield, Whiteland, Whitestown, Yorktown, Zionsville, surrounding areas.