Mold Removal in Noblesville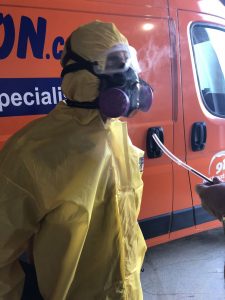 Being a property owner in Noblesville is rewarding. It's also full of responsibility. One of those responsibilities is to stay on top of and repair any property damage that occurs. This isn't always easy since some kinds like mold can be difficult to detect. Mold grows slowly over time, which means it can be weeks or months before you're aware there's a problem. That's why our IICRC certified technicians are ready 24/7/365 to help you with mold remediation. Whether you live in Noblesville, Brownsburg, Avon, or any other city in the Indianapolis area, you can count on us to show up within 45 minutes ready to get started on your mold removal.
Once you know the signs of a mold infestation, it's much easier to be an effective property owner. The good news is that despite its slow growth, mold always reveals itself early in the game. Some of the most common signs of mold include:
Rotting wood

Crumbling drywall

Breathing problems

Headaches

Persistent cough

Stale odor
It's important to remember that mold removal is meant to be handled by trained professionals. This is because regular cleaning efforts don't work. They actually make things worse thanks to mold spores becoming easily agitated. When this occurs, it can spread and colonize new areas of the property. It's due to this, that the only effective solution is professional mold remediation handled by IICRC certified technicians.
Call 911 Restoration as soon as you're aware of or suspect mold growth on your property. We'll show up within 45 minutes for our Noblesville residents to handle your mold remediation needs. Don't wait to get a Fresh Start today.
Mold Remediation Professionals
Mold remediation professionals are easily available when you find yourself needing mold removal. However, each professional has their own qualifications and services offered. They may not all know how to prevent mold from coming back or lack the equipment needed to perform additional restoration services. That's why you should choose a mold removal technician that provides a complete approach from start to finish. Thanks to ongoing training and years of experience, our IICRC certified technicians deliver a perfected mold remediation process every time for our Noblesville customers.
We don't get to work until we perform our visual mold inspection. This is because effective mold removal can't be a rushed process. That's why we take the time to ensure we understand how far the mold has spread, toxicity levels, containment measures needed, and the repairs needed. Once the mold inspection is finished, we can proceed to the mold removal.
The first action our technicians take is mold containment. This is because the mold can't be allowed to go beyond its origin point. We accomplish this task by using the latest containment measures, including vapor barriers. As soon as containment is secured, we begin our mold decontamination step. During this step, the objective is to neutralize the mold spores. This is accomplished with the use of industrial-strength cleaners and detergents. Our final step in the process is when we process the mold removal itself.
Once you notice or suspect mold on your property, call 911 Restoration. We promise to arrive within 45 minutes to get to work on your mold cleanup. Call now to get a Fresh Start that has you breathing easier. 
Black Mold Removal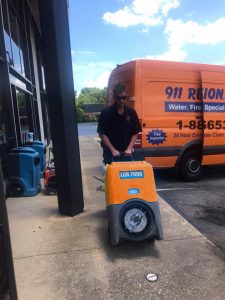 The presence of black mold on the premises is an uncommon yet serious situation for property owners. It's toxic and therefore dangerous to the people residing within the building. Properties that suffer from the following are more susceptible to black mold development:
Unusually dark or damp rooms

Delayed mold remediation

Ineffective mold removal

Contaminated water sources
Black mold needs to be removed asap due to the fact that it harms the property and the health of Noblesville residents. Some of the more serious concerns include organ shutdown and possible death if exposed for too long. Our technicians fight black mold with a two-phase mold decontamination process. The first round is performed prior to our mold removal step. We follow up on our mold removal with another round of mold decontamination to ensure all traces of mold are neutralized and removed. 
Call 911 Restoration if you suspect toxic mold. Don't delay getting a Fresh Start today. 
Servicing the cities of Acton, Albany, Alexandria, Anderson, Arcadia, Atlanta, Avon, Beech Grove, Brownsburg, Camby, Carmel, Cicero, Clayton, Daleville, Danville, Edinburgh, Elwood, Fairland, Fishers, Fortville, Franklin, Frankton, Gaston, Greenfield, Greenwood, Indianapolis, Lapel, Lebanon, Lizton, Martinsville, McCordsville, Mooresville, Morgantown, Morristown, Muncie, New Palestine, Noblesville, Orestes, Pendleton, Pittsboro, Plainfield, Selma, Shelbyville, Sheridan, Shirley, Speedway, Thorntown, Trafalgar, Waldron, Westfield, Whiteland, Whitestown, Yorktown, Zionsville, surrounding areas.