Mold Removal in Anderson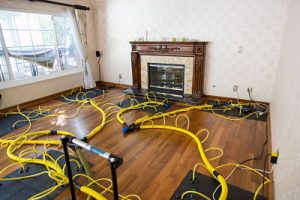 As a property owner in Anderson, you're familiar with the reality of taking care of any property damage that occurs. However, despite your best efforts, it's not always possible to stay ahead of the problem. One such reason for this is some types such as mold infestation grow over time slowly, which makes it hard to detect before weeks or even months have gone by. That's why our IICRC certified technicians are standing by 24/7/365 to help you with mold remediation. Whether you live in Anderson, Brownsburg, Avon, or any other city in the Indianapolis area, you can rely on us arriving within 45 minutes ready to get started on your mold removal.
If you know the warning signs of mold contamination, you can stay ahead of the problem much easier. Despite how sneaky mold can be, the signs are easy once you know what they are. Some of the most common signs of mold include:
Rotting wood

Crumbling drywall

Breathing problems

Headaches

Persistent cough

Stale odor
It's important to remember that mold removal is best left in the hands of IICRC certified professionals. This is because normal cleaning methods and cleaners don't work. Instead, it agitates the mold spores, which, in turn, causes them to go airborne. When this occurs, new mold colonies can develop. For this reason, the only real solution is a professional mold remediation handled by IICRC certified technicians.
Call 911 Restoration once you notice or suspect mold growth on your property. We'll show up within 45 minutes for our Anderson residents to take care of your mold remediation needs. Don't delay in getting a Fresh Start today.
Mold Remediation Professionals
Mold remediation professionals are readily available to take care of your mold removal needs. That being said, each professional needs to be evaluated for their expertise and approach. Not every mold removal technician offers additional services. Some lack the experience necessary to do a thorough job. That's why a mold removal technician that provides a comprehensive approach is the best move to make. With ongoing training and years of experience, our IICRC certified technicians readily deliver a perfected mold remediation process every time for our Anderson customers.
We always begin with a visual mold inspection before getting to work. This is because the process shouldn't be rushed at any point. The visual mold inspection allows to understand how far the mold has spread, toxicity levels, containment measures needed, and the repairs needed. Once the mold inspection is finished, we can get to work.
Our first action taken is mold containment. We can't let the mold spread past the point of origin. We accomplish this task by using the latest containment measures, including vapor barriers. After containment is secured, we proceed to our mold decontamination step. During this step, we use industrial-strength cleaners and detergents to kill the mold spores. Once neutralized, our technicians finish the process with the mold removal itself. Should water damage be present, our technicians are prepared to offer water damage restoration services.
Once you notice or suspect mold on your property, call 911 Restoration. We promise to show up within 45 minutes to begin on your mold cleanup. Call now to get a Fresh Start that has you breathing easier. 
Black Mold Removal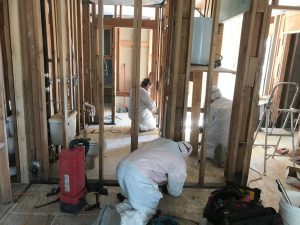 While there are other toxic molds, black mold is the most dangerous of them for people. Fortunately, black mold is uncommon so there's less risk of experiencing this problem. That being said, failure to avoid the following conditions can leave our Anderson residents with black mold:
Unusually dark or damp rooms

Delayed mold remediation

Ineffective mold removal

Contaminated water sources
Black mold harms the property, but it also harms the residents far more than regular mold does. Some of the more severe problems residents face include organ shutdown and possibly death when exposed too long. Our technicians fight black mold by using a two-phase mold decontamination process. The first round is performed before the mold removal step. We follow up on our mold removal with a second round of mold decontamination.
Call 911 Restoration if you suspect toxic mold. Don't delay getting a Fresh Start today. 
Servicing the cities of Acton, Albany, Alexandria, Anderson, Arcadia, Atlanta, Avon, Beech Grove, Brownsburg, Camby, Carmel, Cicero, Clayton, Daleville, Danville, Edinburgh, Elwood, Fairland, Fishers, Fortville, Franklin, Frankton, Gaston, Greenfield, Greenwood, Indianapolis, Lapel, Lebanon, Lizton, Martinsville, McCordsville, Mooresville, Morgantown, Morristown, Muncie, New Palestine, Noblesville, Orestes, Pendleton, Pittsboro, Plainfield, Selma, Shelbyville, Sheridan, Shirley, Speedway, Thorntown, Trafalgar, Waldron, Westfield, Whiteland, Whitestown, Yorktown, Zionsville, surrounding areas.