Water damage restoration: Procedures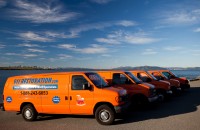 Water damage can be caused by a number of things, from broken pipes to a large amount of rain. Toilets are a very common cause for water damage as well. When toilets overflow, the water can be very contaminated; therefore, you should be cautious when performing water damage restoration. Water damage must be taken care of promptly to eliminate the growth of mold. You should know that mold can be dangerous.
A water vacuum can be used to remove the free-standing water. Mops and towels work great for cleaning up water damage as well. After all of the water is removed, it is best to place fans around the damaged area for ventilation and to air it out. It is important to note that if paneled walls have been affected, they need to be removed. If the paneled walls aren't removed, it can cause mold. Also, if fiberglass insulation has been damaged, it needs to be thrown away too.
I know it can be a very exhausting and extensive process to perform water damage restoration, however, it is necessary. The first two days after the water damage has occurred are crucial. Follow the water damage restoration method mentioned above and it will be simple. Try not to become too overwhelmed and just focus on the job. Be mindful of the steps you should complete. Keep in mind a professional restoration company can do all of this for you, and its covered by your home insurance!